Ensuring high standards of clinical and corporate governance, monitoring performance and ensuring effective financial stewardship.
Asma Balal
Country Director, Marie Stopes Society, Pakistan
Asma Balal is a public health and development professional with over 20 years' experience in donor-funded programme design, implementation and management. Ms. Balal holds MS in International Health from Harvard University School of Public Health, USA and an MBA in Marketing from Institute of Business Administration, Karachi, Pakistan. Ms. Balal served at Abt Associate-International Health Area as a Senior Analyst from 1999 to 2002 and thereafter served as Manager Health Care Practice Unit- Deloitte Emerging Markets Groups where she provided technical and management oversight to USAID funded health projects in Asia and Near East. Throughout the years Ms. Balal held various positions at Marie Stopes, most recently as a Project Director for the DFID funded performance-based RH framework project in Pakistan. Currently, Ms. Asma Balal is the Country Director for MSS responsible for overall country program's leadership, technical outputs and financial management.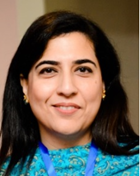 Ronak Lakhani
Chairperson, Special Olympics Pakistan
Ms. Lakhani is currently the Chairperson of the Special Olympics Pakistan and has been involved with organizing different activities of Special Olympics, such as the Athlete Leadership Program and Family Support Network Program. Ms. Lakhani has dedicated her life to improving the lives of people with intellectual disabilities and integrating them into mainstream society through the power of sports.
Her goal is to provide intellectually challenged individuals with a platform to be heard, seen and for their contributions to be recognized by the society and the country with honour and respect. She has assisted in screening over 3,000 intellectual challenged people in different disciplines and provided free prescription glasses, dental check-ups and follow ups, all free of charge. Due to her hard work the Special Olympics has more than 20,000 athletes registered today. Mrs. Lakhani is also Vice President of the Karachi Women's Swimming Association. She has a Post Graduate Degree from Nirmala Niketan Mumbai India and is actively involved in very successful Annual Fundraisers, which have created substantial awareness in Pakistan for people with Intellectual Disabilities and generated large sums of funds. Due to her efforts, in 2016 she was awarded the 'Sitara-e-lmtiaz' by the President of Pakistan, the third highest honour and civilian award in the Country.